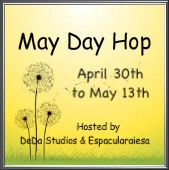 Welcome to the May Day Giveaway Hop
hosted by
A fun group of blogs have gotten together to celebrate May Day with a giveaway hop! Please make sure to visit each blog on the linky below to enter to win! How About Free is celebrating May with Newman's Own Organics! I love, love, LOVE Newman's Own Organics and everything that their company does for charity. Since 1982 Paul Newman and the Newman's Own Foundation have donated more than $300 million dollars to educational and charitable organizations worldwide! How awesome is that?!
 When Nell Newman and business partner Peter Meehan started Newman's Own® Organics: The Second Generation® in 1993, they were sure there was a market for organic snack foods, but they couldn't have anticipated just how fast the demand for their products would grow. What started with pretzels and grew to include other snack foods has now expanded to many other organic items: coffee, tea, olive oil, balsamic vinegar, organic dried fruit, and pet food.
Newman's Own® Organics' products meet all the requirements of the USDA's National Organic Program. Ingredients have been grown on farms that have not used artificial fertilizers or pesticides for three years or more. Since we are trying to eat more organic foods, Newman's Own Organics have become a staple in our house. The products are sold nationwide in a number of mainstream supermarkets, so they are easy to find.
Check out the Newman's Own Organic Facebook page and enter below to win 4 of my favorite Newman's Own Organic products (Alphabet Cookies, Newman O's, Salted Stick Pretzels, and the Chocolate Chip Family Recipe Cookies).
Be sure to check out all the other great giveaways participating in the May Day Hop!